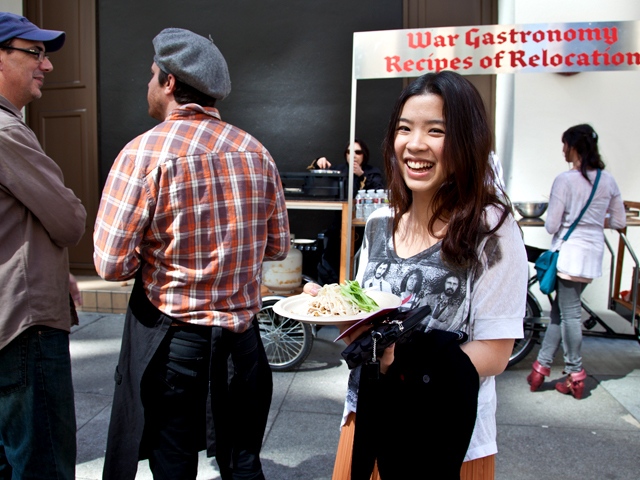 CURRENT/UPCOMING SHOWS
Spontaneous Interventions at the Venice Architecture Biennale
War Gastronomy (a collaboration with Justin Hoover)
13th International Architecture Exhibition, la Biennale di Venezia
U.S. Pavilion, Giardini, Venice, Italy
August 29th - November 25th, 2012
Devendra Banhart, Justin Hoover and Chris Treggiari
L@TE: Friday Nights at BAM/PFA
Berkeley Art Museum & Pacific Film Archive
2626 Bancroft Way, Berkeley, CA
September 21st, 2012, 7:30pm
MAP @ TAM
The Mobile Arts Platform (a collaboration with Peter Foucault)
The Torrance Art Museum
3320 Civic Center Drive, Torrance, CA
Opens September 22, 2012, 6:00-9:00pm
September 22nd - November 3, 2012
Eat My Words
War Gastronomy (a collaboration with Justin Hoover)
McLoughlin Gallery
49 Geary St, Ste 200, San Francisco, CA
September 27th, 2012, 7:00-9:00pm
MAP at Marion and Rose's Workshop
The Mobile Arts Platform (collaboration with Peter Foucault)
Oakland Art Murmur
October 6th, 2012, 6:00-9:00pm


IN THE NEWS
August 2012 - War Gastronomy and Spontaneous Interventions in Architecture Magazine.
July 23, 2012 - A mixed-tape inspired by The Mobile Arts Platform and Performing Communities at SOMArts in The Bold Italic.
June 20, 2012 - The Mobile Arts Platform as part of The Next Fifty at the Seattle Center in Center Spotlight


*ARTIST STATEMENT: Chris Treggiari's artistic practice strives to investigate how art can enter the public realm in a way that can connect wide ranges of people and neighborhoods in a variety of communities. Chris has shown internationally including the Venice Biennale 2012 American Pavilion as well as nationally at SFMOMA, the Torrance Art Museum, the Getty Museum, Berkeley Art Museum, Yerba Buena Center for the Arts, the San Jose Museum of Art, and The Oakland Art Museum.
Chris has received grants from the Puffin Foundation, the San Francisco Arts Commission, the Creative Work Fund, the Arts Commission of San Jose, The Seattle Center Foundation, and the Oakland Arts Commission, U.S Bank, and the Zellerbach Foundation to name a few. Chris is currently a teaching artist in-residence at the Center for Art and Public Life at the California College of the Arts since 2013-current.